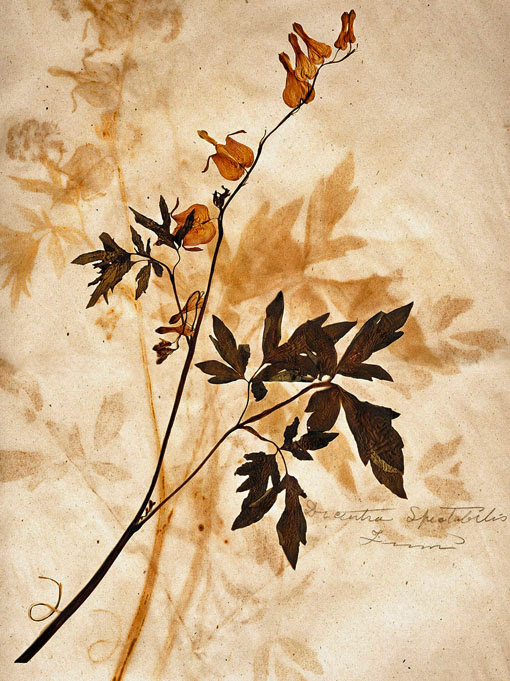 On January 25th, from 2 to 4 pm, the Grace Hudson Museum presents an opening reception for "Nature's Beloved Son: Rediscovering John Muir's Botanical Legacy," an exhibition of digitally enhanced high-resolution images of Muir's wide-ranging plant specimens, along with pages and drawings from Muir's nature journals. At 2 pm, John Muir re-enactor Frank Helling will present his live act "A Visit with John Muir—The Scootcher of a Lifetime," followed by refreshments. The event is FREE with Museum admission.
John Muir (1838 – 1914) who was born in Scotland, while still a child, migrated with his family to Wisconsin. John Muir played many roles in his remarkable life—philosopher, writer, explorer, environmentalist (he was a founding member and first president of the Sierra Club). Yet his impressive legacy as a botanist–his willingness to hear what a plant had to tell–is not as well known.
While collecting and cataloging plant and animal samples can be for many a purely scientific pursuit, for John Muir it was of a part with his life's work: a rapturous devotion to the presence and power of nature. That story was taken up by exhibit curator and Muir historian Bonnie Gisel, who, along with photographer Stephen Joseph, created the book "Nature's Beloved Son" (published by Heyday Books in 2008), upon which this exhibit is based. Gisel pored through Muir's articles, drawings, journals and books, making lists of the plants Muir made note of, then traveled to national parks, botanical gardens, natural museums and universities to track down the hundreds of plants collected by Muir and bring them together.
After that, photographer Stephen Joseph scanned and restored the images to their original presentation, so that they looked much as Muir would have seen them. To do this, he underwent a painstaking process, removing the glue or tape that held each plant to its sheet of paper and scanning it into a computer program for three to twenty hours per plant. Sections which remained hidden behind tape or glue were rebuilt; the contrast and color of the plants were heightened. The original notes, envelopes and labels are included. ("Before and after" images of plant samples that Joseph digitally restored are on display at the exhibit.) Muir preserved the plants he collected in a plant press made of strips of hard wood nailed together using straw board and newspaper. (A replica of the press is included in the exhibit.) Not all of the specimens he collected have been preserved, but many were found in special collections and herbaria around the country. (Some were even discovered in an attic.) In this era when the medicinal qualities of plants is being rediscovered and biodiversity is at risk, the collections of John Muir and others who contribute to herbaria are more invaluable than ever.
This exhibit will be on display until March 16, 2014. But there will be additional special events planned in conjunction with this exhibit. On February 4, the Museum Curator Marvin Schenck will conduct a special tour. Then on February 7, there will be a papermaking workshop by Lost Coast Culture Machine. Then on February 22, a Family Fun at the Museum workshop, and on March 16, will be an illustrated lecture by author and naturalist Kate Marianchild.
The Grace Hudson Museum is at 431 South Main Street, Ukiah. General admission is $4 or $10 per family and $3 for students and seniors. For additional information call 707-467-2836.
Few are altogether deaf to the preaching of pine trees. Their sermons on the mountains go to our hearts; and if people in general could be got into the woods, even for once, to hear the trees speak for themselves, all difficulties in the way of forest preservation would vanish. –John Muir