Some of the Equipment Looking out at the Gardens with a Partial Distant Ocean View
At the beginning of each New Year most people make their New Years resolution, and one of the most popular is staying healthy with a proper diet and exercise. Here at Stevenswood we have an assortment of great exercise equipment to help you keep up with your goals. This is a current list of the great equipment that we have in our exercise room to help meet your needs.
T-Zone Vibration Technology
When you stand on T-Zone's oscillating vibration technology platform, vertical vibrations are produced with a side-alternating rocking movement, similar to walking.
Our body reacts to this natural stimulus with an involuntary reflex muscle contraction. Depending on the speed, muscles will react up to 32 times per second (approximately 16 contractions and 16 relaxations), and as the acceleration forces increase, your body will feel as though it "weighs" more. This clever technology means you can work against a far greater influence or "load" of gravity in every movement you perform.
The result – more benefits! Unlike other vibration technology fitness machines, T-Zone's technology is particularly unique because it may achieve results for a wide range of objectives, for all ages and body types. There are two main types of vibration available:
Oscillating/ Pivotal Vibration Technology Used by T-Zone Health
Oscillating vibration is the most natural vibrating movement and has the widest range of benefits. People find this type of vibration technology most comfortable and it makes sense that muscles are activated alternately as they would be in walking.
This is by far the most popular type of vibration machine technology with many scientific studies to support it. Widely used by chiropractors, physiotherapists, trainers and doctors across the world, this type of vibration technology is suitable for all ages and health levels.
Teeter Hang Ups
Benefits of Inversion
Don't just cover up symptoms; target the source of your ache! Teeter Hang Ups has helped millions like you find natural relief in the convenience of their own homes, and takes only a few minutes a day!
Relieve Back Pain
Relaxes muscles, rehydrates discs, realigns & reduces pressure
Ease Stress
Releases tension in shoulders, neck & back
Improve Joint Health
Decompresses, strengthens & enhances shock absorption
Increase Flexibility
Improves functional fitness for an active, healthy lifestyle
Improve Fitness and Build Core Strength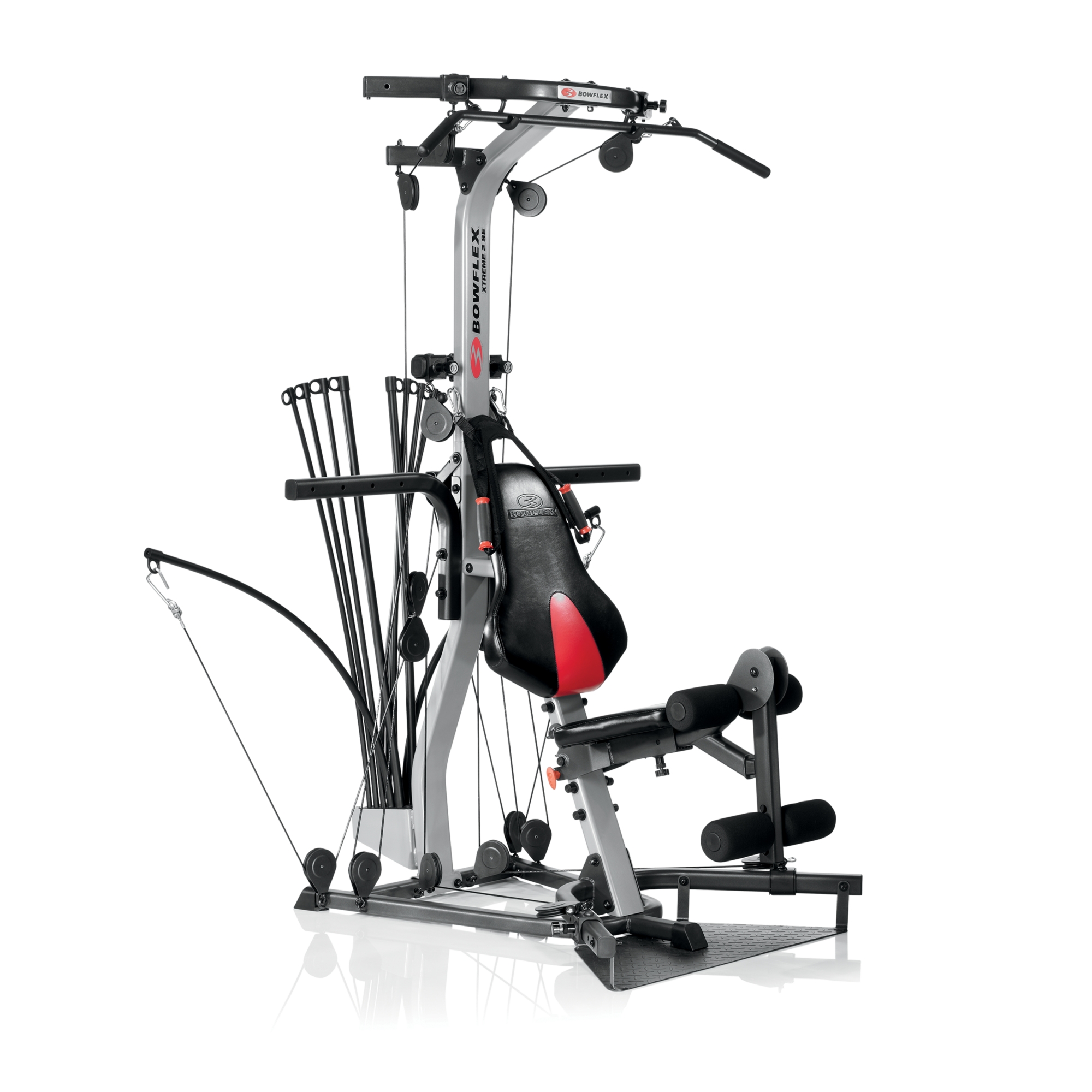 Boxflex Xtreme 2 SE Home Gym
Product Features
210 lbs of Power Rod® Resistance Standard 
Bowflex® Power Rod® units give you resistance, or weight, that feels as good as or better than free weights but without the inertia or risk of joint pain usually associated with free weights. The Bowflex Xtreme® 2 SE comes standard with 210 lbs / 95 kg and is upgradeable up to 310 lbs / 140 kg or 410 lbs / 186 kg! 
Revolutionary No-Change Cable Pulley System 
Lets you move from squats to lats to leg workouts without ever changing cables. That means you'll save time and keep your heart rate up as you progress through your workout. 
Lat Tower with Angled Lat Bar 
Build back and shoulder muscles quickly with this integrated tower. 
4-Position Lower Pulley/Squat Station 
Use this station to do squats and build your glutes, hamstrings and quads. 
Leg Extension 
Use for exercises to develop strong, muscular legs. 
Abdominal Crunch Shoulder Harness 
All new ab harness and ab pulley bar help you build strong, defined abs. 
Ergonomic Adjustable Seat with Polyurethane Cushion 
New design provides added back support for leg exercises and knee support for lat exercises. 
Compact Size for Smaller Workout Space 
Gym-style vertical workout position. Reinforced "X"-shaped base for maximum stability. 
5-Way Hand-Grip/Ankle Cuffs 
Our unique handgrip is designed to add flexibility and performance to any workout. Functions include a Regular Grip, Non-Grip Cuff, Ankle Cuff, Foot Cuff and a Shoulder Cuff. 
Multiple Cable/Pulley Positions 
Designed to change your angle of resistance – increases the effectiveness of many exercises. 
Reebok Cycle RB 345
Keep your workouts as smooth as possible with the feature-packed Reebok® RB 345 stationary bike. The RB 345 comes with SMR™ Silent Magnetic Resistance to adjust your workout intensity without interrupting your workout, an adjustable frame and a GelSoft™ Seat designed for your ultimate comfort and eight workout programs plus iFIT® Interactive Personal Training to customize your workouts to meet your personal fitness needs.
Features
SMR™ Silent Magnetic Resistance

CoolAire™ Workout Fan

Patented Oversized GelSoft™ Seat

Target Pacing Coach™

Adjustable Recumbent Frame

Instant Feedback Display

8 Workout Programs

EKG™ Grip Pulse Monitor

iFIT.com® Compatible
Treadmill Pro Form 665 E
Specifications:
Compatible Music Port for iPod®*: Move to the beat of your favorite music with this built-in sound system

Plug your iPod®, or MP3 Player, into the Interplay" Music Port for unbeatable sound quality

With the iPod® resting on the console shelf, it's within easy reach and leaves the controls right at your fingertips

As you match the encouraging cadence of the concert-like sound, you'll discover the dramatic difference the Interplay" Music Port brings to your workout

*\niPod is a trademark of Apple, Inc., registered in the US and other countries. iPod® not included

16 Personal Trainer Workouts: Burn fat, lose calories and stay motivated with Personal Trainer Workouts

These programs take the guesswork out of your workout by automatically adjusting the speed and incline of the treadmill for increased intensity

Choose between aerobic, weight-loss, endurance or performance workouts and you'll be on your way to success

The speed, incline and time of each workout are pre-determined so the only thing you have to worry about is pressing start

ProFlex Plus" Cushioning: Offering more comfort and protection, the triple-barrel ProFlex Plus" cushion allows you to take your workout farther, while adding more joint protection than ever before

Mach Z" 2.75 HP Drive Motor: Experience expanded power with this quiet, self-cooling drive system

Employing an axial fan, this motor reduces noise as it cools internal components enhancing your workout environment and extending the motor's life

Bright Green LED Display: Get fast, easy-to-read workout feedback with this exclusive display that blends high-visibility LED technology with intelligent styling

This console also includes a 5×7 workout matrix that displays your workout graphically displays your speed, distance, time, pulse and calories burned

0-10 MPH QuickSpeed" Control: Instead of tediously scrolling through options, QuickSpeed" allows you to instantly change the speed of the treadmill between 0-10 MPH with the single touch of a button

0-10% Quick Incline" Control: The best and most convenient incline adjustment, the patent pending Quick Incline" allows you to change the incline with the single touch of a button instead of tediously scrolling through options as you would with traditional incline controls

Dual-Grip EKG" Heart Rate Monitor: Make the most out of every workout by monitoring your heart rate with these sensors that are built into the handlebars, ensuring you're always in the right training zone for your goal\n

20 x 55 Quiet Treadbelt: A vital component of the drive system, this roomy treadmill belt is designed to operate more smoothly and quietly than the average treadmill belt

300 lb. Weight Capacity: Able to accommodate weights up to 300 lbs., this sturdy deck withstands heavy use
Elliptical Pro Form  600
The ProForm SpaceSaver 600 Elliptical provides three different stride lengths to fit your own size – 13", 15", and 18." Listen to your own music while getting instructions with the MP3 music port and iFit workout technology. (iFit sold separately.) Then fold it up for easy storage. With the built-in personal trainer workouts, heart rate monitor, and easy-to-read display, you have everythig you need for the body you want. All at an affordable price!
Features
Silent Magnetic Resistance

Adjustable Stride Length

Fold-up SpaceSaver Design

Built-in workout programs

Contact Heart Rate Monitor

Upper-Body Workout Arms

InterPlay Music Port

Back-Lit Console

4 Personal Trainer Workouts

Target Pacer

Workout Fan

Oversized Pedals

275 user weight capacity
Two Person Infrared Sauna
Infrared Sauna Health Benefits
Infrared saunas are an effective tool for natural healing and prevention. Infrared light has the ability to penetrate human tissue which in turn produces a host of anti-aging health benefits making infrared saunas one of the "hottest" home therapies for overall healthier living. If you want to get yourself back into balance, an infrared sauna may be the ticket to achieving your wellness goals. 
Detoxification
Sweating is the body's safe and natural way to heal & stay healthy. Infrared sauna benefits the body by heating it directly causing a rise in core temperature resulting in a deep, detoxifying sweat at the cellular level, where toxins reside. 
Relaxation
Unlike traditional saunas which operate at extremely harsh temperatures, infrared is a gentle, soothing and therapeutic heat that promotes relaxation and improved sleep. Infrared sauna benefits include therapy that helps you relax while receiving an invigorating deep tissue sweat, leaving you fully refreshed after each session. 
Lower Blood Pressure
Infrared sauna induce a deep sweat to make the heart pump faster, which in turn increases blood flow, lowers blood pressure and helps circulation. Scientific evidence shows the infrared sauna benefits using an infrared sauna a couple times a week lowers blood pressure. 
Anti-Aging & Skin Purification
The near infrared wavelength (sometimes referred to as Red Light Therapy) is the most effective wavelength for healing the epidermis and dermis layers of the skin. Near Infrared treatments stimulate collagen production to reduce wrinkles and improve overall skin tone. 
Cell Health
Near infrared therapy stimulates the circulatory system and more fully oxygenate the body's cells. Better blood circulation means more toxins flow from the cellular level to the skin's surface to improve cell health, aid in muscle recovery and strengthen the immune system.
Weight Loss
Studies have shown that benefits of an infrared sauna session can burn upwards of 600 calories while you relax! As the body works to cool itself, there is a substantial increase in heart rate, cardiac output and metabolic rate, causing the body to burn more calories. 
Pain Relief
Infrared heat penetrates tissue, joints, and muscles to relieve anything from minor aches and pains to chronic pain conditions such as fibromyalgia. Pain management professionals incorporate infrared heat therapy into treatment plans to decrease pain and muscle spasms and to speed up recovery time. 
Wound Healing
Scientific research has concluded that near infrared therapy greatly enhances the skin's healing process by promoting faster cell regeneration and human tissue growth. Human cell growth increases to repair wounds and prevent infection.
 Overall Health Benefits
The release of fat-soluble toxins and toxic body chemicals through perspiration

Elevated heart rate leading to increased blood flow and accelerated calorie burn

Enhancement of the immune system due to an increase in body temperature

Stress reduction due to increased and improved blood flow

Endorphin release due to increased heart rate

Improved circulation due to expanded capillaries

Weight loss due to toxin release from fat cells and increased caloric burn

Cardiovascular conditioning and the lowering of blood pressure

Reduction in cellulite due to significant sweating

Reduction in arthritic and muscle pain

Enhanced skin tone due to the opening of skin pores