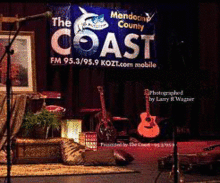 Local Licks Live XX, Saturday, November 9, 2013
Always the premier concert of the season, The Coast F.M. (KOZT) presents their 20th concert and the final concert in this series. These concerts have been held to benefit music for the local schools. This all acoustic concert features some of the best musicians in Mendocino county. Performers this year in alphabetical order is Steven Bates, Bill Bottrell, Marilyn De Frange, & Janet Orsi, Foxglove: Morgan Daniel, Gwyneth Moreland, John Bush & Booi Volk, David Hayes, Gene Parsons, James Preston, Holly Tannen and always some surprise guests.
The concert is held at the Cotton Auditorium, on the corner of Harold & Fir Streets in Fort Bragg, California, on Saturday, November 9, 2013 with the doors opening at 7:00 pm and the show starts at 7:30 pm. Advance Tickets $15 and $20 at the door.