Conductor Allan Pollack
Since 1987 he has been Music Director of the Mendocino Music Festival, one of Northern California's most respected summer festivals, and since 1989 Artistic Director of the Symphony of the Redwoods, an orchestra based in Fort Bragg, California. He has also held conducting positions with the San Francisco Conservatory of Music, San Francisco State University, and the Capp Street Community Music Center. Pollack is also an accomplished jazz saxophone and clarinet player.
The 30th Season of the Symphony of the Redwoods continues with Allan Pollack conducting Rossini, Beethoven's 7th Symphony and Mozart's clarinet Concerto with guest clarinetist Eric Kritz.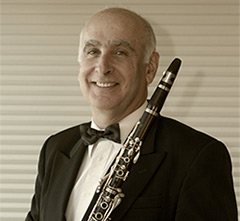 Eric Kritz
The concert will be held at the Cotton Auditorium, Fir and Harold Streets, Fort Bragg, California. The dates are  Saturday, February 2 at 8:00 pm and Sunday, February 3, at 2:00 pm. The cost is $21 adults, and youth to 18 is FREE. Click here for online tickets. For information call 707-964-0898.
Stevenswood Spa Resort is only 15 minutes south, of Fort Bragg, and the Cotton Auditorium. Plan on coming to the coast and enjoy one of our suites, dinner and relax and get pampered in our spa.
For dinner phone 707-937-2810 or online at urban spoon.
For lodging phone 707-937-2810 or online at reservations.
For spa reservations phone 707-937-2810 or online at Indigo Eco-Spa.