Albion lies directly on California's Highway 1 north of Navarro, and south of Little River. It lies just north of the intersection of Highway 128 and Highway 1 (Shoreline Highway).
Albion Bridge under construction 1944.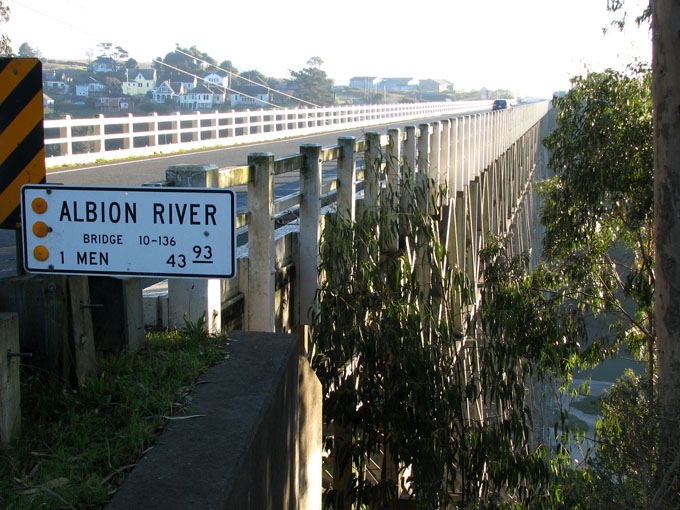 Albion River Bridge today (2007) Albion has two bridges, spanning the Albion River and the Little Salmon Creek. The Albion River Bridge, built in 1944 when steel and concrete were in short supply, remains the last wooden bridge still in use on Highway 1. In 1845, Mexico awarded English sea captain William Richardson a large land grant, stretching along the California coast between present day towns of Elk and Mendocino. By 1853 Richardson had built, in the middle of this tract, a home and sawmill alongside a narrow river estuary. He named the spot Albion, after the ancient name for his homeland. Richardson's sawmill was the first to begin operation along the Redwood Coast. It was powered by a tide-driven water wheel, which would operate whether the tide was coming in or going out. Unfortunetly, the mill was destroyed by ocean waves during its first winter. Richardson rebuilt the mill the following year, steam driven this time, but lost all his land that same year when the U.S Land Commission refused to recognize his Mexican title.
A sawmill would continue to operate at this location over the next 75 years. By 1861 a hotel, livery stable, and mercantile store were also in operation.
This is the Albion New Cash Store. (circa 1905)
The Albion South Side Hotel (circa 1905)
The Albion Mill between 1909-11.
Albion in the 1940,s.