Did you know that there is approximately 50 wineries located in 3 clusters in Mendocino County. On Highway 101 there is the Hopland area, then further north there is Ukiah and Redwood Valley and Potter Valley. Then of course on Highway 128 the Yorkville Highlands and the Anderson Valley. There are also 6 appellations located in Mendocino County. There is the Anderson Valley, Potter Valley, Redwood Valley, Yorkville Highlands, Cole Ranch and McDowell Valley. Applications are in progress for still more appellations, with the most important being the widely planted Ukiah and Sanel Valleys along the Russian River. While most Mendocino vineyards fall into one of the current or proposed AVA's many small vineyards dot the hills and dales of the rugged region. These legacy vineyards from Mendocino immigrant past give the region its identity as a home to Mediterranean red varieties, including Zinfandel, Syrah, Petite Sirah, Carignan, Charbono and Grenache. Yet Mendocino's Anderson Valley is also home to some of Americas most sought after Alsation whites, prestige sparkling wines, and high-octane Pinot Noir.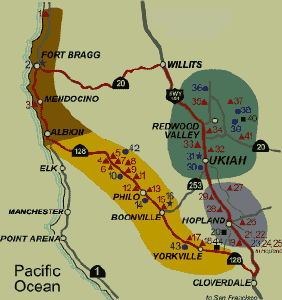 Map of Mendocino Wineries
Coro Mendocino
Also Mendocino County vintners created "Coro Mendocino" five years ago to showcase the county's "heritage grapes" imported by immigrants from the Mediterranean basin. To qualify as a Coro bottling, the wine must be 100% Mendocino grown, and come from Zinfandel, Syrah, Petite Sirah and other grapes that have been grown in the county for generations. But in a unique twist, Coro wines must be a blend of a number of these varieties. Of course such regionally-based blends are common in Europe. Coro, on the other hand, is the only controlled blending program in the United States. Coro's blending rules begin with the requirements that the wine contain at least 40% Zinfandel and that no other variety can eclipse the percentage of Zinfandel. The complex blending rules are compounded by defined ranges for specific chemistry, such as alcolhol and PH, and also rules for aging. (100% new oak for at least 12 months, and another year in the bottle on top of that). All these factors make it relatively expensive to produce a coro bottling, which must also use a special label and top of the line cork. Total production rose modestly, to 1933 cases overall from 1825 in 2002. In contrast, there was a big jump after the first year, when only 1300 cases were made.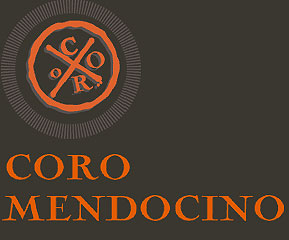 Coro Mendocino
Yorkville Highlands
Now traveling to the coast on Highway 128 you will go through the Yorkville Highlands and the Anderson Valley. You will first reach the Yorkville Highlands that flanks both sides of Highway 128. In 1998 the region was approved as an AVA, primarily because of its distinctive soils and temperatures relative to surrounding growing areas. Yorkville Highlands rocky soils, with high gravel content, differ from the loamy, clay soils common to neighboring appellations. These highly pourous soils allow for great water drainage, which forces the roots of the vines to dig deep for water. This results in low vigor vines that yield concentrated fruit. Day temperatures here fall between those of hot Alexander Valley and the cool Anderson Valley. However, at night Yorkville Highlands experiences greater cooling than either of these adjacent appellations. The moderate temperatures of the Yorkville Highlands are suitable for Sauvignon Blanc, and also show great promise for reds like Cabernet Sauvignon, and Merlot. The wineries you will find here are:
In addition check out there festival they hold in August:
Yorkville Highlands Wine Festival
                                                                    Highlands Ranch
Anderson Valley
Continuing west on Highway 128 you will reach the town of Booneville. It is between Booneville and Navarro where you will be in the Anderson Valley. Anderson Valley now ranks with the top Pinot Noir regions in North America. While production is moderate, the quality is exceptional. Anderson Valley is an unusual transverse appellation, going laterally through the coastal range rather than lying between ridges. Anderson Valley is less than 15 miles from the cold Pacific ocean. The temperatures can range with daily high low temperatures of up to 40 to 50 degrees. This enables Pinot Noir growers to keep acid development in line with sugar and flavor formation through long, warm Indian summers. It also makes for superb Gewuztraminer and Riesling, and sparkling wine. The Anderson Valley hosts a wide range of wineries. The wineries you will find here are:
Lazy Creek Vineyards
In addition check out there festivals:
International Alsace Varietal Festival
 –
2007 Pinot Noir Festival
(2007 festival website in early March) link to last years
2006 Pinot Noir Festival
, and the
California Wine Tasting Championships
.
                                                                                            Anderson Valley Pinot Noir Festival
 Pacific Star
When you reach the coast going north up Highway 1 between the town of Cleone and Westport is the Western most winery in the United States, The
Pacific Star Winery
. This unique winery is located on the cliffs where the Pacific Ocean waves crash into sea caves under there cellar, naturally filtering wine from its sediment. Salt from sea air, deposits on barrels accelerating osmosis while creating viscous and dense wines. Also the Pacific Star Winery Specialty and is Sally Ottoson's (owner and winemaker) pride and joy is the very rare Charbono. This winery is a must see when visiting the coast.
                                                            Pacific Star Winery
Hopland
When you enter Mendocino county going north on Highway 101 you will come to the town of Hopland. Located in the Ukiah Valley, south of the city of Ukiah, the town of Hopland is tiny but interesting, small but full of life. Hopland has unique shops, Victorian Inns and homes, galleries, restaurants, and the very first post-prohibition brew pub in California. The local Hopland Band of Pomo Indians also operates the Hopland Sho-Ka-Wah Casino & Bingo. Hopland also hosts 3 festivals. There is quite a selection of wineries to visit when in Hopland. The Wineries you will find here are:
In addition check out these festivals:
Mendocino Wine Affair
 (2006 schedule)
Hopland Passport
. 
Ukiah
Continuing north on Highway 101 there is Ukiah, which is Mendocino's county seat. It was in 1856 Ukiah had its first settlers. The city's first hotel was built in 1858 by Harrison Standley, who was also Ukiah's first Postmaster. In 1889 the first train steamed into Ukiah and land prices quickly boomed with bare lots going from $30 to $150. By the end of the 1940′s lumber camps were springing up all over the county. Redwood became a popular wood of the day. Today the largest industry in Ukiah is agriculture. Ukiah's unusual climate and fertile soil are home to numerous wineries, grape vineyards, and pear producers. Unlike other cities close to the coast, Ukiah is relatively fog free. This fact, coupled with warm days and cool evenings, gives Ukiah an ideal climate for those who want four seasons but don't want extreme temperatures. When visiting Ukiah, the wineries you will find here are:
Dunnewood Vineyards
Redwood Valley & Potter Valley
Traveling only a few miles north on Highway 101, you will come to the Redwood Valley AVA which sits about 200 feet higher than Ukiah and Hopland. Accordingly, the climate of this upland valley is slightly cooler, furthered by a gap in the coastal ridge which allows cool Pacific air currents to penetrate. These conditions lead to a gradual ripening of grapes that makes Redwood Valley Cabernet Sauvignon, Zinfandel, Barbera, and Petite Sirah refined and complex. The notable soil of the area also provides depth of color and flavor to the wines. The earliest vineyards in Mendocino County were planted here among the ancient redwoods by Italian immigrants, although this area did not gain official appellation status until 1997. Located east of Mendocino's Redwood Valley, the upland Potter Valley AVA is a remote valley with 1,000 + acres of vineyards. Great day and night temperature variations seperate Potter Valley from other growing areas in Mendocino. Mid-day in this inland valley can be truly hot, but nighttime temperatures plummet. Under such conditions, varieties like Sauvignon Blanc, Chardonnay, Riesling and increasingly Pinot Noir flourish, developing strong but refined character. The wineries to visit in these regions are:
Gabrielli Winery
Chance Creek